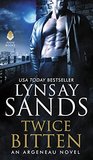 Twice Bitten
by
Lynsay Sands
My rating:
4 of 5 stars
This installment in the pack is a bit of a departure from the larger storyline. Sure, everyone is still short staffed because of the hunt for the evil doctor, but it doesn't actually play in directly to the events here. The book is a bit of Cinderella mixed with sleeping beauty if you are a fairytale lover.
Elspeth has been trapped under her mother's thumb all her life. What started as a smothering mother has definitely taken a turn into an incredibly damaging relationship. When your mother can actually control what you do and think, there's a danger there that she'll go too far, and that's exactly what Espeth's mother does. Lucky for her, during a trip, she manages to sneak away and move out on her own. That all begins to crumble away when her mother and sisters show up for a surprise visit. Her friend and landlady would have probably given her the heads up, if she hadn't been busy with her own surprise visit in the form of her grandson, Wyatt.
Wyatt met Elspeth four years ago, but she appears to not remember. He should've probably known something was wrong when she never showed up for their follow-up date, but all the searching in the world didn't find her for him. Those crazy nanos, however, ensured that she would certainly be able to identify her life mate when she re-meets him! With all of the abuse that Elspeth takes from her mother, it was nice to see Wyatt and her form a real and true bond. While this book didn't really progress the larger story, it did show the darker side of immortal families and what can happen. I wonder where this series will take us next!
View all my reviews